Here in Sunderland, and like much of Ontario, we are patiently waiting for Mother Nature to get her ducks in a row and kick winter out the back door.
Then again, do we really want that spring cleaning list coming through the front door? Further hibernation is not an option, so bring on spring!
Getting yourself organized come spring time can often feel like a daunting task, but it doesn't have to be. We've compiled a few simple tips that can help you get organized and make your spring cleaning a breeze!
Water preparation
Ensure your eaves troughs, downspouts and any drains are secure and clear of debris
Check window wells for sitting water
If you have a sump pump, ensure its functioning properly and consider installing a battery backup and/or alarm
Yard and landscape maintenance
Clean up brush and fallen branches around the yard
Inspect porches and decks for any damage or shifting
Check fences and retaining walls for any signs of damage
Good time to create a home inventory
Make an organized list of higher valued items that you put in and out of storage
Group items of lesser value together
Identify items that you no longer need around the house
Review your home insurance policy (of course we're going to suggest this!)
Do I have overland water and/or sewer or septic backup coverage?
Did I make any improvements to the house recently?
Have I made any substantial purchases over the past few months?
Feel free to give us a call or send us an email, we're always happy to help!
So, what are you waiting for? Oh, right, it was snowing yesterday… I guess you still have some time. However, when that time comes, don't procrastinate! Start small and stick with your plan.
Before you know it, you'll have a hop in your step like that furry little creature that leaves chocolate eggs all over the place. You'll be ready to spring right into summer. But let's not get ahead of ourselves!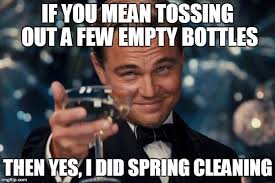 If you don't know what we're all about here at Brown & Brethour Insurance, click HERE to find out! We pride ourselves in being apart of our community and helping out where ever we can, even if it's with your Spring Cleaning, Cheers!
0
comments